Midas M32R Live
Regular price
$4,644.00
/
Tax included.
---
Midas M32R Live
Digital Console for Live and Studio with 40 Input-Channels, 16 Midas PRO Microphone Preamplifiers and 25 Mix Buses and Live Multitrack Recording
Live performance and studio recording digital console with up to 40 simultaneous input channels

16 award-winning Midas PRO microphone preamplifiers

25 time-aligned and phase-coherent mix buses

AES50 networking allows up to 96 inputs and 96 outputs

32 bi-directional channels of live recording/playback on dual SD/SDHC (cards not included)

Up to 3 hours of 32 channel PCM recording in one session - stored as uncompressed WAV files

High-performance aluminium and high-impact steel structure

Rack mount brackets included for ultimate flexibility

40 bit floating point digital signal processing

8 DCA and 6 mute groups

8 digital signal processing effects engines

17 Midas PRO motor faders

Daylight viewable 5" full colour TFT display screen

32 x 32 channel USB 2.0 audio interface

DAW remote control emulations of Mackie Control* and HUI* protocols

Optional wireless remote control with Midas Apps for iPhone* and iPad*

Auto-ranging universal switch-mode power supply
Designing A Future Classic
Our goal for M32R LIVE was to combine the best of classic British console designs with advanced modern technology to completely redefine what a rack mountable digital desktop mixing console can offer.
We began the industrial design process by drawing inspiration from a somewhat unexpected source – the luxury and high-performance car industry.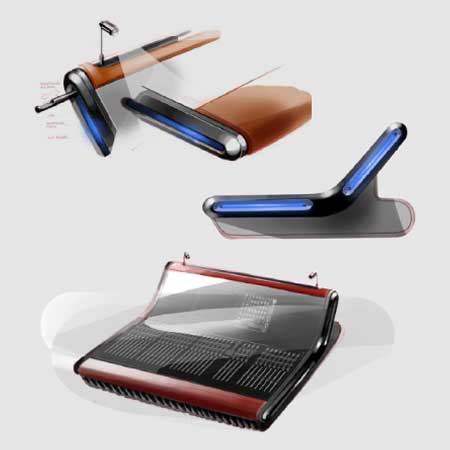 Why High-Performance Cars?
Simply because the design teams at Aston Martin*, Bentley*, Rolls Royce*, and other leading manufacturers are skilled at introducing innovative technological advancements while simultaneously maintaining the feel, essence, and intangible qualities of their cherished brands. And in essence, that's the challenge we too faced when creating the M32R LIVE console.
So in order to create a future-forward design that took the Midas legacy even further, we enlisted the help of Rajesh Kutty, a leading industrial designer known for his work with celebrated luxury auto manufacturers such as Bentley, etc.
Kutty started by examining the design elements that have made Midas consoles so highly sought after – from the straightforward, logical layout to the unparalleled usability and ergonomics. These are characteristics that live sound engineers around the world have come to rely on, and are key aspects of the Midas legacy.
With these design elements in mind, Kutty set forth to create a styling that would be modern, innovative, futuristic, and stunningly elegant.
Many different construction materials were tested. Countless design variations were explored. And in the end, a styling was chosen that represented the perfect marriage between aerodynamic artistry and uncompromising performance. The design is both ultramodern and distinctly classic at the same time.
The Landmark in Console History
A close look at M32R LIVE reveals that the styling is completely new in every sense of the word. Rajesh Kutty's automotive-inspired design elements mesh perfectly with a recognisable Midas signature, setting the M32R LIVE apart from any other console. Its beautifully streamlined and elegant form factor completely revolutionises the experience of live mixing.
The Midas M32R LIVE construction is equally impressive, and is designed to offer you years of reliable performance while withstanding the demanding environment of live performance venues. M32R LIVE employs a predominantly space-frame construction, with parts of the sub-frame consisting of high-performance aluminium. Multiple alloys have been employed throughout to guarantee maximum component efficiency and an improved performance-to-weight ratio.
The M32R LIVE is an innovative, evolved design that brings together modern construction principles and high-tech materials into a styling destined to go down as a landmark in console history.
Industry-Leading 192 kHz Precision
The groundbreaking M32R LIVE console combines legendary Midas sound quality with advanced digital technology, future-proof floating point audio engine, extremely low-latency design and industry-leading 192 kHz ADC and DAC converters, creating a revolutionary mid-format live console. M32R LIVE features ultra-sleek styling, offering you a truly luxurious mixing experience. High-end construction materials include carbon fibre provide unparalleled durability and strength, plus substantially lower weight than comparable consoles.
The M32R LIVE utilises award-winning Midas PRO Series microphone preamplifiers and the custom-designed Midas PRO motorised faders that are rated for 1 million life cycles-three times more than other leading consoles. 
The Midas M32R LIVE is a future-forward console that completely raises the bar for live mixing.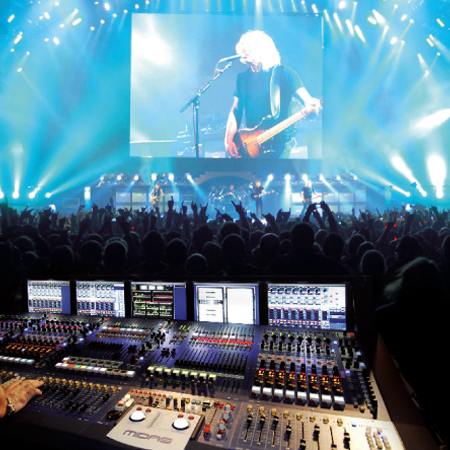 Legendary Midas Sound Quality
While the Midas M32R LIVE design, styling, and construction will surely turn a lot of heads, it's the sound that matters most to engineers and performing artists. And that's where M32R LIVE shines even brighter – as the latest in a long line of pristine-sounding Midas consoles, it descends from a celebrated lineage that literally set the standard in electrical design and sound quality. Ever since Midas consoles first found fame 40 years ago with acts like Billy Joel, Yes, The Beach Boys, Pink Floyd and others, the Midas legacy has always been about uncompromising quality and the ultimate in sound reproduction.
Backing the analogue input section are audiophile Cirrus Logic multi-channel 192 kHz capable A/D converters, which boast a 114 dB dynamic range, ensuring impressively low distortion and low noise performance.
Built for Tomorrow
The M32R LIVE is a console built for today, and tomorrow – its rock-solid proprietary operating system and the 0.8 ms audio engine provide outstanding state-of-the-art audio performance for years to come.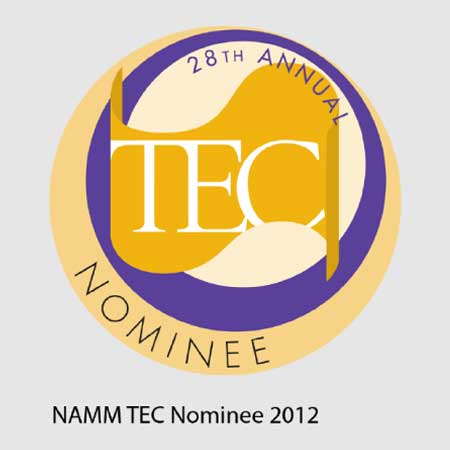 Award-Winning Midas Mic Preamplifier
The Midas mic preamp is considered by leading live sound and recording engineers to be the very essence of the famous Midas sound. More than 40 years of design experience paired with the finest choice of premium-grade components lead to the acclaimed warmth and depth, bring out subtle ambience, maintain spatial positioning, and more effectively capture a precise image. The acclaimed sound of the award-winning Midas microphone preamplifier has inspired generations of live sound engineers to their best work, creating sonic landscapes that have captivated audiences worldwide.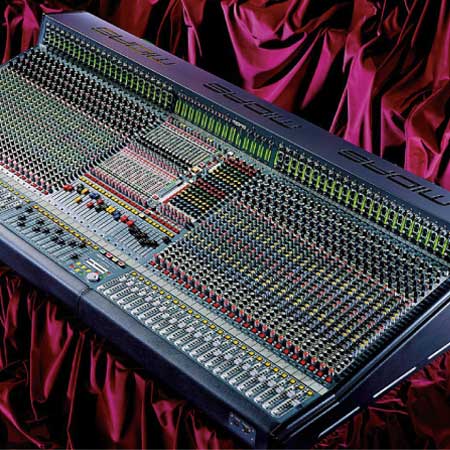 Creating Sonic Landscape
The Midas preamplifier design eliminates typical imbalances of gain-setting stages, thereby improving the common-mode rejection ratio (CMRR) and harmonic distortion to an almost immeasurable level. The constant high-frequency bandwidth topology assures excellent stability, RF rejection and noise performance at all gain levels, contributing to its transparent, open and dynamic sound. But it doesn't end there, over the years many mix engineers have found that this robust and overload-tolerant design takes on a whole new dimension of sound when driven hard, the pristine audiophile reproduction giving way to just the right combination of harmonics, a warm and organic sound heard by millions of concertgoers and recorded for posterity on countless live albums over the years.
Since pristine sound always begins with the microphone preamplifier, the first point where your signal enters the console, M32R LIVE features genuine Midas microphone preamplifiers, which faithfully reproduce every sonic detail so no part of a performance will ever be missed. Transparent and pristine sound, low noise and high common-mode rejection are all hallmarks of this classic design.
The microphone preamplifiers are the very same ones used in the industry standard Midas XL4 and HERITAGE 3000 consoles, which many consider to be the greatest analogue live consoles ever built. Over the past decade, the XL4 and HERITAGE 3000 have been utilised by countless top artists including Bon Jovi, Alanis Morrisette, AC/DC, Coldplay, Kid Rock, Metallica, Alicia Keys, Foo Fighters, Christina Aguilera, Sir Paul McCartney, Pearl Jam, and many more.
The M32R LIVE draws from this same legacy to bring you an elite professional level of audio quality and performance.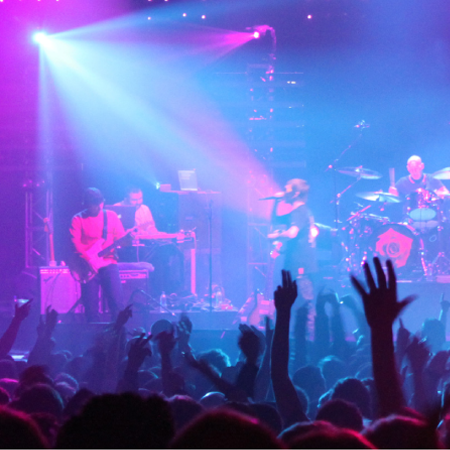 What Makes the M32R LIVE Possible is – Everything
Whether you come from an analogue mixing background, or are accustomed to using other digital consoles, your first experience with M32R LIVE has been engineered to be intuitive, fluid and straightforward.
The brilliance of the M32R LIVE is its simplicity and workflow. Tactile controls allow smooth adjustments to critical elements as the mix progresses while the TFT screen keeps you informed every step of the way. This integration of tactile controls, motorised faders and the array of LCD and TFT displays makes the M32R LIVE experience the premiere solution for Live Sound, Broadcast, Studio Recording and Post Production applications.
M32R LIVE changes the game by completely rethinking what is possible in a digital mixer. An intuitive workflow coupled with a fully interactive user interface ensures immediate familiarity and instills confidence. Advanced engineering and meticulous design deliver stellar sonic performance at an extremely affordable price – changing the game entirely.
Local Shipping Rates (SGD)
Free Normal Local Shipping (3-5 Work Days) with minimum. $100 spending.
Normal Local Shipping (3-5 Work Days): $10 Flat Fee
Express Local Shipping (Next Work Day): $15 Flat Fee
Self Pick-Up at Office: No Charges (Free). *Customers will need to contact us for arrangements prior to coming to our showroom at 66 Tannery Lane, #01-03J, Sindo Building.
Overseas Shipping
Due to the fluctuating overseas shipping charges we are unable to indicate a fix shipping rate for overseas purchases. If you are based overseas and want to make a purchase and ship to your country, please send us an email at admin@micheckonetwo.asia, indicating your order and shipping details. Our team will give you a quotation for your order with specific shipping cost.
*All charges are in Singapore dollars and inclusive of 7% GST.